Epping Fire Department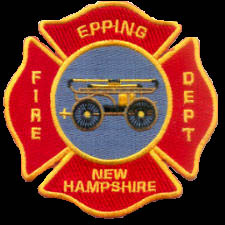 The Boot Fund Drive on Route 125 between 3PM and 8PM on September 21, 2001 raised

$ 7,258.50

Which will be sent to
The September 11 fund
in care of the United Way.
Seven-Thousand Two-Hundred Fifty Eight Dollars and Fifty Cents
An average of $1,451.70 per hour for the 5 hours
or
almost $ 25.00 per minute.
from passers-by, on one road, in one little town in America,
a long way from that spot in New York City.
And so it is happening in many, many little towns and in cites, by truly hurt and caring people,
some with fond memories, and many who have never even visited New York City.
Thanks to everyone who donated !
A passing thought for the terrorists
Welcome to Epping Fire Department's web site. This site is Primarily intended to be viewed by members of the Epping, New Hampshire Fire Department, but all are welcome.
Contact Information
Chief
Christopher P. Murphy
Telephone
603-679-5446

FAX
603-679-3000

Postal address
Epping Fire Department
37 Pleasant Street
Epping, N.H. 03042

Electronic mail
General Information: eppingfd@nh.ultranet.com

Visitors since 9/22/2001
Updated 9/22/01 Chris Murphy